About
About MPN
Quick Reference Links
[wptb id=626]
Our Company
Our network and initial services were launched in 1998, and we formally incorporated as MPN in 2001.
We are a proven DE&I/EEO/OFCCP-focused human capital and consulting integrated solutions provider.
We are a NMSDC Certified NMSDC MBE, 100% minority-owned, and a majority Black woman-owned firm.
We have attracted and delivered proven Diversity, Equity and Inclusion (DE&I) and OFCCP/EEO-compliant solutions and results to 2,700+ clients, advertisers and partners based in 46 U.S. states and several international countries.
Our primary web sites include: mpnDiversityJobs.com and mpnDiversityRecruiters.com.
We can help your organization achieve results by delivering our proven integrated solutions.
Our key market offerings include:

Our expanded CONSULTING offerings are powered by our key leaders & consultants decades of combined Fortune 500, academic and nonprofit leadership and consulting experience.  Leveraging the extensive depth and breadth of our team's knowledge, experience and best practices allows us to deliver proven DE&I insights, thought leadership, strategy/consulting, and facilitation, training and speaking  in driving actionable results as well as provide marketing, supplier diversity and IT professional services.
While MPN fully owns accountability and deliverability for all engagements, we engage external consultants, partners or resources as needed to ensure timely, high quality and relevant results that meet or exceed our clients' expectations.
Our Job Board
[wptb id=629]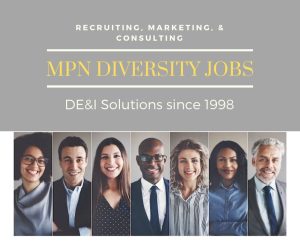 Our Clients & Partners
Our job board and recruiting services have attracted 2,700+ valued DE&I/EEO/OFCCP-focused corporate, education, government and nonprofit employer clients, recruitment agencies, staffing firms and other partners from 46 U.S. states and other countries, including:
Corporate: Allied Universal, Alabama Power, Allstate, Amsted, AT&T, Bank of America, Boston Scientific, CBRE, Cox, Dollar Georgia Power, General, FADV, GE, Honda, HP, Intel, MetLife, Merck, Microsoft, Moody's, Nicor Gas, Nike, Novartis, NY Life, PetSmart, Pinkerton, PNC, Porsche Cars, PwC, Raytheon, Southern Company, Southern Company Gas, Travelers, Walmart ....
Government: Alachua County, CIA, City of Portland, FBI, FDIC, FRB, NASA, NOAA, Oregon Health Authority, PANYNJ, SANDAG, SBA, State of Colorado, State of Oregon, United Way, US Courts, USDA, US DOS, US DOE, US Homeland Security, US SEC ....
Education: Brentwood School, Colgate, Columbia, CUNY, Duke, Emory, Harvard, Michigan State, Northwestern, Ohio State, Penn State, Portland Public Schools, Sidwell Friends, Stanford, U of Alberta (Canada), UCLA, UMass, Yale ....
Nonprofit: AAA, AARP, ACLU, Alzheimer's Assoc., Bill & Melinda Gates Foundation, Big Brothers/Big Sisters, CARE USA, CBC, CPUC, DCCC, Feeding America, JFK Center, JP Getty Trust, USGA, United Way ....
Media/Advertising: Bernard Hodes (Symphony Talent), CBS, Comcast, Edelman, EW Scripps, Findly, JobElephant, JobTarget, JWT, Time Warner, TMP, WXPN ....
 and thousands of others …
Our sample DE&I speaking/training clients, engagements or media interviews have included:
3rd Door Media, 11alive TV, AJC, American Express, AT&T, CNN, Dillard U.
El Observador, GADOL, Greater New Orleans, Inc., Hispanic PR
Minority Business News USA (MBNUSA), NBMBAA, North Highland, NSBE
Philadelphia Tribune, PMI, Rolling Out, SMX Next (by Microsoft), VoyageATL
U.S. Department of State, Walmart and several others .....
Our Audience:
Our audience encompasses a broad spectrum of diversity, including racial, ethnic, cultural, gender, age, experience, functional, students, veterans, corporate professionals, consultants, healthcare and legal professionals, entrepreneurs, nonprofit and academicians, and executives.
Our audience encompasses millions of site users, e-subscribers and social media contacts from all U.S. states and 50 other countries.
Our job board and global portal both deliver highly ranked organic SEO/SEM website results: diversity job boards, minority professionals, diverse employers, professional career fairs, etc.
For ALL job board announcements and ads, we leverage our websites, social media platforms, and e-Subscribers to generate high visibility exposure with large audiences of potential "Active" and "Passive" qualified diverse candidates, suppliers or consumers.
We have reached millions of site users, social media connections, e-Subscribers, event attendees and candidates from all U.S. states and dozens of countries.